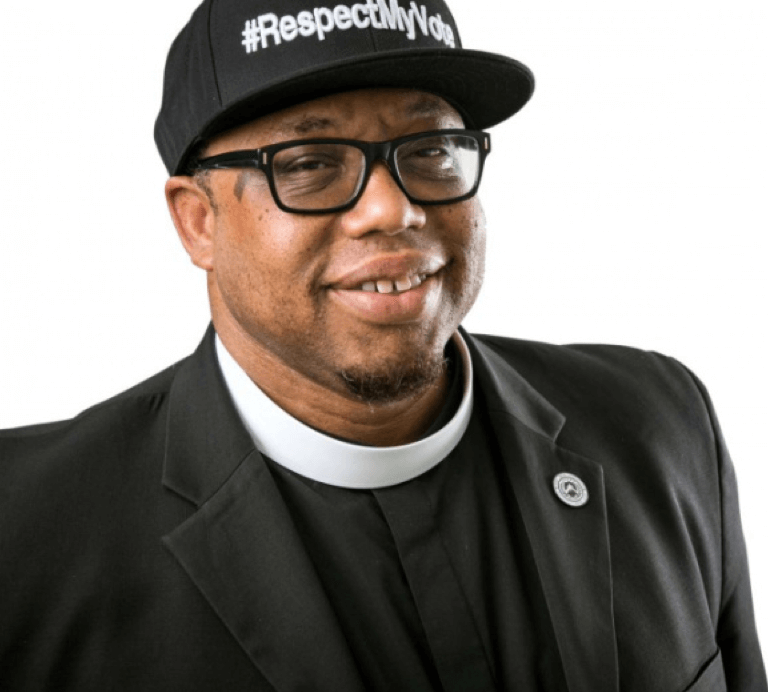 Chicago Defender: "Cover Story: Black Votes Matter"
For the last two weeks, Americans have been inundated with non-stop coverage of both the Republican National Convention and the Democratic National Convention consuming the television airwaves.
At the RNC, we witnessed a lack of diversity and message that continually rang throughout the convention — Make America Great or Make America Safe Again — whatever Trump could fill in to magnify the perception of nostalgic fear.
The following week, the DNC flipped the script with four days filled with speakers on behalf of various groups that Donald Trump has isolated during his campaign. Unlike the RNC, the Democrats had a sitting president attend and eloquently pitch to Americans why Hillary Clinton was the best person to succeed him.
When our president mentioned Trump's name, he was greeted with boos from the audience, but in his cool and collective grace, he said, "Don't boo, vote."
In the 2008 presidential election, a large number of African-Americans came out to vote. There was an electricity in the air and the possibility that the first Black president could be sitting in the Oval Office.
But as the bells and whistles died down, we had a president who was saddled with cleaning up one of the worst recessions since the Great Depression. This chokehold impacted our communities, sending thousands into foreclosure, high unemployment and rising student loan defaults.
In 2012, 66 of percent Black voters came out to vote, more than whites, 64.1 percent, during the Obama/Romney election, reflecting the significance of President Obama's influence.
Many Illinois legislators and powerbrokers were on hand in Philadelphia for the Democratic National Convention.
Cook County Democratic State's Attorney candidate Kim Foxx was in attendance at the DNC in Philadelphia and witnessed firsthand the impact of President Obama's speech.
"The convention demonstrated to both parties how incredibly high the stakes are. This isn't a matter of a time we can take for granted, what's going to happen with the laws in our country with these movements that we see taking hold in communities?" she said. "On the presidential level, the next president has the ability to appoint four Supreme Court justices; that has a direct implication into people's lives. When we talk about whether the Voting Rights Act and the ability to ensure that communities of color are not affected by oppressive voting laws."
She said other laws such as women reproductive rights are at risk if the Republican nominee gets in the White House.
Illinois State Sen. Kwame Raoul (13th District) agrees on the extreme impact of the judicial system at the highest courts with the sudden death of Justice Antonin Scalia and possibly other justices retiring soon. The influence of appointing the next replacements could change or reverse landmark decisions such as Roe v. Wade and the Voting Rights Bill.
Criminal Justice Reform
Most important, Sen. Raoul has pushed for criminal justice reform long before the national media and Republican conservatives jumped on the bandwagon. His role as part of the Illinois delegation as well as hosting a panel discussion during the DNC on criminal justice reform included a widow of a police officer who had been murdered, a former gang member who did intervention work whose son was murdered, and Kim Foxx — also a victim at a younger age.
Raoul says some of the statistics that he cited during his panel discussion at the DNC disproportionately affect the African-American community the most — significantly more than whites and Latinos.
"Conservatives have started talking about the need of criminal justice reform, and so many African-American families have been affected one way or another by a broken criminal justice system. Within this campaign and going forward, if Democrats and Hillary Clinton don't deliver a clear message to the need of aggressive reforms on criminal justice, you can have a disaffected voting bloc among African-Americans," he said.
The Illinois delegation leads in some of the concerns that translated to other urban cities across the country. It was clear that social justice movements such as Black Lives Matter, HandsUp United and families of gun violence victims brought together a common voice in democracy.
City of Chicago Treasurer Kurt Summers was among the DNC attendees and interacted with other public officials from other cities addressing similar concerns.
"The Chicago agenda has to be at the forefront of that national conversation and be the example," said Summers.
In order to push the importance of getting out to the polls — he feels we must first start with showing party unity as between Clinton and Sanders supporters. He believes the Illinois delegation was more evident in bringing together their forces compared to other states.
In joining forces, he believes it opens up more dialogue to put a clear agenda on the table for the possible Clinton administration.
Summers said, "The need to come together and talk about what's really happening in our communities, the lack of economic opportunity and the need to create that for Black people in this country and the result of what happens when we don't have that. The legitimacy of the pain of mothers whose lost children in this process, the anger and disappointment in a number of people — we see that right here. It was prevalent throughout the convention and through every address."
A great portion of motivating more voters to come out to the polls rely on younger people and first-time voters — many of whom were staunch Bernie Sanders supporters.
Founder and Executive Director for the Hip Hop Caucus-Rev. Lennox Yearwood
National organizations such as the Hip Hop Caucus was formed in 2004. It emerged from four organizations, including Hip Hop Music Mogul Russell Simmons' Hip Hop Summit.
Led by Rev. Lennox Yearwood Jr., the Hip Hop Caucus has taken a frontline role, leading the initiative of educating young voters on the legislative issues and policy decisions on the local, state and federal level.
The new campaign, "Respect My Vote," includes a grassroots push to travel around the country and register millennials on familiar ground — music and lifestyle events.
Yearwood understands the power of the hip hop community and has brought on various artists to push the message of voting.
"We have to organize our community — the urban and the hip hop community. To show that we are engaged in the political process. There's been a war on people of color trying to vote. We want to make the voting process as easy as possible."
All Politics Are Local
Chicago native and five-time Grammy−award winning songwriter Malik Yusef is an ambassador for the Hip Hop Caucus and spokesperson for Respect My Voice. As opposed to some of his music colleagues who openly sup- port Clinton and the Democratic Party, Yusef is a Republican.
He admits he is not in agreement with some of Clinton's priorities, but he does not support Trump's process of igniting fear.
Five-time Grammy-award songwriter/producer Malik Yusef
"From a personal standpoint, I am miffed. I am a Republican and I'm not proud of what the party has turned into. It's been in disarray for some time. Our nominee is someone I disagree with on just about every single issue that is available. I don't know anything we agree with, only that America needs to change and run a better business," said Yusef.
Yusef is performing and traveling with the High Road Tour, featuring Snoop Dogg and Wiz Khalifa, where he gets a chance to talk with young attendees about the importance of Respect My Voice. "All politics are local. There's a person that decides what time your street gets plowed if you live in those areas, what time your street get cleaned, who does construction projects, who can film a movie on location and where — those are local politics that people miss because it's not plastered on social media."
Other organizations such as the Chicago Urban League conducted public town hall meetings and forums leading up to the primaries, bringing together candidates and policymakers on issues concerning the Black community. President and CEO Shari Runner of the Chicago Urban League says they will continue their voter registration push for the general election.
"We did voter registration at our picnic last week. We're also going to work with the LINKS and we're encouraging people to register before the deadline. To encourage them not just to register but to really know the issues and the candidates that they vote on in November," she said.
Although there is a U.S. Senate race between Republican incumbent, Mark Kirk and Democratic candidate Rep. Tammy Duckworth —Runner said neither candidate accepted an invitation during the primaries to speak at their candidate forums.
"I think people should feel that it's just as important as the presidential seat. One of the things that need to happen is for Democrats to take back the Senate and the Congress. Mark Kirk's seat is one of those seats at play."
President Obama stated clearly the domino effect of local and state elections impacting the presidential race.
Foxx concurs, "The stakes are high. This is not an election where people can take for granted where it doesn't matter who gets into office. It absolutely does. What I was struck by on a personal level was watching President Obama at the DNC talking about it's not just the presidential election — we have to go all the way down the ballot."
There are currently six U.S. Senate seats up for re-election in several states during the general election, including Illinois. Democratic party members are pulling out all stops to ensure Duckworth's win but are battling critics of Duckworth's no-show in the Black and Hispanic communities.
Senior policymakers such as Sen. Raoul don't hold back on why no candidate should sleep on Black voters.
"African-Americans are known as one of the most loyal voting blocs among Democrats. You add to the mix the impact over the years, conservative Republicans think they can jump on board with their own hidden motivations. It's incumbent among Democrats at the very highest level to show leadership on this and address our issues."
With the current polls reflecting a small push for Clinton ahead of Trump by 5-8 points, it's still too close to break open the champagne with millions of U.S. citizens not registered and those putting their civil liberties temporarily on the shelf.
Yusef believes there is a serious disconnect about voting among young adults. "The millennials have been let down by their previous generation. We can't blame the youth — we have to blame the parents. They are now 18 ,19, 21 years old and a lot of them haven't registered to vote because they don't see any significance of voting," he said.
He is changing that scope by working with young talent such as actress Keke Palmer and rising music star Vic Mensa. "He's been incredible and a fast learner. Vic has taken to this like a fish to water because he wants to see change."
Why Your Vote Matters
After recently attending a youth panel hosted by One Summer Chicago, Treasurer Summers said, "One of these kids asked the question, 'Why does our vote matter?' My answer was straightforward— if it didn't matter, people wouldn't have died for it. If it didn't matter, people wouldn't be trying to take it away from us, every chance they got. If it didn't matter it wouldn't be two billion dollars spent this fall trying to convince you for that vote," he explains.
"The way that you vote impacts the funding of your school system, who your prosecutor is and whether they fairly represent you; who runs the police department and the ability to seek justice whether they're a citizen or a member of the police force."
With less than three months away from the general election, Rev. Yearwood along with other prominent organizations know there is still a great deal of work to be done.
"We have to show that demonstration without legislation leads to frustration. We have to connect the dots. It's important to be in the streets, but it's also important to be in the suites and have an impact on Capitol Hill and at the statehouse. The way you can do that is by creating your political power, and the first of that is through voting."
Read Original Article on Chicago Defender By Senior Staff Writer Mary L. Datcher