Chicago Reader: "Can Vic Mensa radicalize Lollapalooza? The Chicago rapper publicly supports Black Lives Matter and LGBT rights, among other progressive causes—which makes him an interesting fit for a festival that tries to please everyone."
The Chicago rapper publicly supports Black Lives Matter and LGBT rights, among other progressive causes—which makes him an interesting fit for a festival that tries to please everyone.
On July 5, Alton Sterling was selling CDs in front of the Triple S Food Mart in Baton Rouge, Louisiana, when he was tackled to the ground and fatally shot by police. A chorus of prominent voices have eulogized the 37-year-old father of five, who many believe died because he was black—among them Chicago rapper and Save Money cofounder Vic Mensa. Within days of the killing, Mensa posted an Instagram photo of Sterling, his face lit up by an open-mouthed smile. He captioned it with a heartfelt plea for us to change the way we see race: "Tell yourself that you don't need to fear a man just because of the color of his skin."
That photo of Sterling became the source material for a spray-painted mural that now adorns a wall outside Triple S Food Mart. On Thursday, July 14, Mensa shared an Instagram photo of himself in front of that mural. He'd traveled to Baton Rouge as a spokesperson for Respect My Vote!, a non­partisan campaign (under the auspices of the nonprofit coalition Hip Hop Caucus) that aims to get people registered and out to the polls. Mensa encouraged locals to participate in the upcoming election—all 12 city council seats and the mayor-­president's job are up for grabs. He stayed in Baton Rouge to attend Sterling's funeral on Friday, and I spoke to him just before the ceremony.
Mensa, 23, has plenty to talk about these days. He confronts racial injustice, police violence, and poverty on the ferocious There's Alot Going On (his debut EP for Roc Nation, released in June), rapping about the poisoned victims and corrupt architects of the Flint water crisis ("Shades of Blue") and the death of Laquan McDonald at the hands of CPD officer Jason Van Dyke ("16 Shots"). Events since then—the fatal police shootings of Sterling and Philando Castile, the redoubled conservative pushback against Black Lives Matter after the killings of police in Dallas and Baton Rouge, the horrifyingly absurd Republican National Convention—have kept these wounds open. By comparison, the occasion for my interview with Mensa felt a little trivial: Lollapalooza.
Mensa has performed at Lollapalooza twice before: with Kids These Days in 2011 and on his own in 2014. This year he headlines the Pepsi stage at 9 PM on Saturday night, a time slot that puts him up against Dutch electro DJ Hardwell, English neohouse duo Disclosure (Mensa's onetime touring partners), and over-the-hill alt-rockers Red Hot Chili Peppers. It'll be interesting to see how Mensa's activist hip-hop goes over at a giant corporatized festival that seems allergic to any treatment of the issues he raises.
Not that Lollapalooza abstains from activism, of course. Ever since Perry Farrell launched the fest in 1991 as an elaborate package tour and send-off for his band Jane's Addiction, it's opened its gates to worthy causes. This year's edition hosts a dozen nonprofits and activist organizations, most of them well established nationally if not internationally: they include the One Campaign, which U2 front man Bono cofounded to fight preventable diseases around the world; Rock the Vote and HeadCount, which work to increase election turnout; and Syd Rocks, which helps fund research into the treatment of a little-­known pediatric cancer called Langerhans cell histiocytosis. Syd Rocks is based in Chicago, as are a few other groups, among them the volunteer-focused Chicago Cares and two transit-centric organizations, Bike 4 Life and Working Bikes.
These are all fantastic causes, but you might notice something about their areas of interest—they're all comfortably uncontroversial. I don't have the highest opinion of Lollapalooza fans—I've seen too many of them being assholes to strangers—but I have a hard time imagining even the most despicable concertgoer getting offended by an organization raising awareness of a little-known disease that afflicts children. On the other hand, if Lollapalooza engaged with activist groups addressing issues that tend to start arguments between conservatives and liberals—racism, feminism, LGBT rights—you can be sure a whole bunch of people would be huge dicks about it.
That's probably why Lollapalooza's organizers—who like to promote the festival as reflecting Chicago's vibrant culture—haven't given a seat at the table this year to nonprofits dealing with some of the city's most troubling crises. Conspicuously absent are Center on Halsted, the midwest's largest LGBT community center; CeaseFire, the violence-­prevention group known nationally as Cure Violence; and Black Youth Project 100, the national organization whose strong chapter here has been a major voice in protests against the racist use of police force in Chicago.
Vic Mensa posted these photos to Instagram earlier this month. To the left is Alton Sterling, killed by police on July 5 outside the Triple S Food Mart in Baton Rouge. To the right are Mensa and an unidentified man standing in front of a new mural of Sterling painted on the wall of the store.
This is what happens when good intentions collide with the desire to avoid ruffling feathers so the money keeps flowing in. Lollapalooza's reluctance to acknowledge racial inequality—an urgently important issue not just in Chicago but in the country as a whole—is almost ironic in light of the performance that closed the festival in its inaugural year, when Ice-T joined Jane's Addiction onstage for a cover of Sly Stone's "Don't Call Me Nigger, Whitey." Of course, Farrell thought Lollapalooza would be a onetime thing, so he was more willing to take risks. These days, he's a spokesperson for Maestro Dobel Tequila (though he's still attached to the festival, at least for now), and Lollapalooza is an entrenched, corporatized behemoth.
When Blood Orange played Lollapalooza in 2014, the biggest stories to come out of it had little to do with the band's music. Front man Dev Hynes wore a T-shirt bearing the names of black men killed by police officers, and on-site security personnel allegedly assaulted him and singer Samantha Urbani. (Whether there's a connection between the shirt and the alleged assault remains to be seen.) In an environment where a shirt like that can raise eyebrows, Mensa will feel downright radical. About his festival set, he tells me, "I'll have a lot to say." But he won't go into detail: "You'll have to come and see."
When Mensa dropped There's Alot Going On he told Billboard, "I think the idea of activism, more so a revolutionary mindset, is something that has been with me for most of my life, especially since I was about 16 years old." He says that's when poet Aja Monet passed along copies of The Autobiography of Malcolm X and Revolutionary Suicide, the memoir of Black Panther Party cofounder Huey Newton. Activism has been part of his music for the past seven years, he explains—and while that's definitely true, it's become much more overt on There's Alot Going On.
Mensa's first solo EP, 2010's Straight Up, which he self-released at 17, ends with the mournful "Whispers," where he raps about the shootings that claim a disproportionate number of young black men: "Black sky / Mother lamenting over her dead son / You ask why / The bullet wound from which a nigga bled run / For hours before the law even decide to show they face / Now they closin' up the casket like they 'bout to close the case." The track ends with Monet delivering spoken word over a sweltering trumpet melody from Nico Segal, better known as Donnie Trumpet.
In the band Kids These Days, active from 2009 till '13, Mensa added subtle commentary on Chicago's segregation and violence to his lyrics. On the sinister "Don't Harsh My Mellow," from their final release, 2012's Traphouse Rock, he delivers the line "I'm Elie Wiesel coming live from out the ghetto." Later he infused his effervescent breakthrough mixtape, 2013's Innanetape, with personal-as-­political storytelling. On the slapping electro track "Yap Yap," he describes the bleak view that many people like him have of the legal system: "No Scared Straight! Throw children in jail / General consensus is we off the hinges."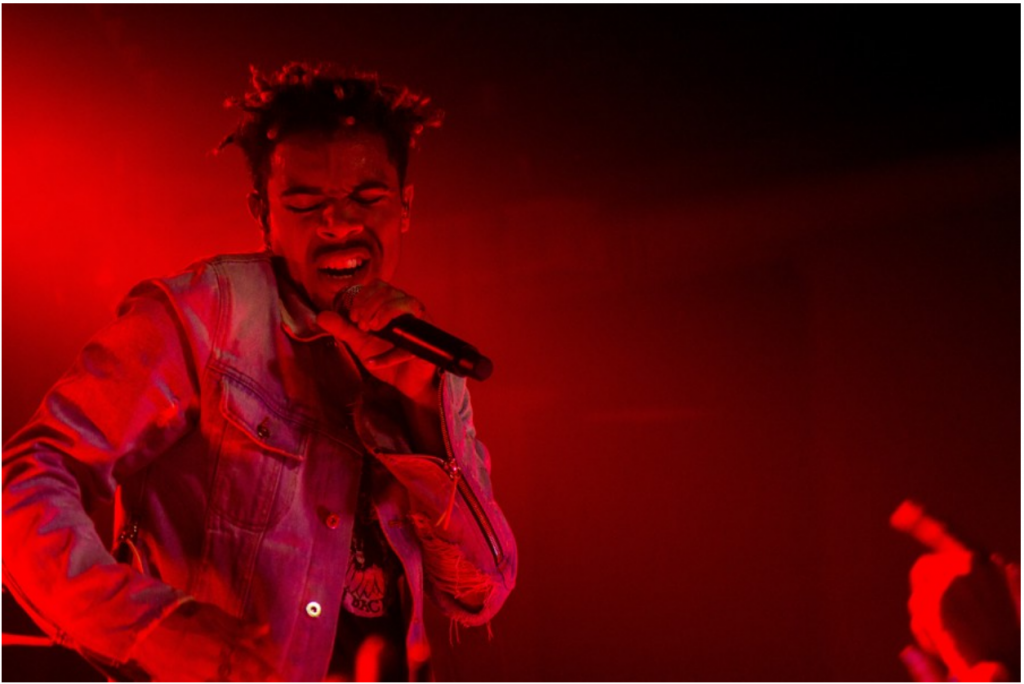 In the two years since his previous Lollapalooza set, Mensa says, the biggest change he's gone through has been becoming the artist he's always seen himself as. He's overtly political now, though he doesn't much care to work within the system. In an interview on syndicated New York radio show The Breakfast Club in June, he described politics as "all smoke and mirrors, and a lot of time very little truth"—he's much more focused on bringing "power to the people."
Mensa says he became a spokesperson for Respect My Vote! this year with the help of Chicago poet and songwriter Malik Yusef, who serves as Hip Hop Caucus's director of arts and culture. Less than a week after Mensa dropped There's Alot Going On, he appeared with Hip Hop Caucus founder Lennox Yearwood in a town-hall election discussion cohosted by hip-hop lifestyle site Complex. When asked why marginalized folks who are struggling to survive should divert any energy at all to voting, Mensa said, "You talk about people stuck outside the building, and they feel like these doors will never open for them. Well, you know what? This is one door you can open yourself."
For the first month of its release, Mensa offered
There's Alot Going On
as a free download to anyone who pledged through Respect My Vote! to go to the polls in the upcoming presidential election. The organization is nonpartisan, but Mensa makes it clear on the EP that he's on the side of the impoverished, the underprivileged, and people of color—anyone with the odds unfairly stacked against them. The booming single "16 Shots" is a furious indictment of the fatal police shooting of Laquan McDonald and the city's lengthy attempted cover-up. On the song's repeated hook, he counts to 12—hardly a radio-friendly choice, but it drives home his point about the number of bullets that pierced McDonald's body (even though he doesn't get all the way to 16). Mensa rips into Rahm Emanuel ("The mayor lying said he didn't see the video footage") and the officer who pulled the trigger ("This for Laquan on sight, when you see Van Dyke / Tell him I don't bring a knife to a gunfight").
Despite Mensa's anger and clear desire for retribution, his response has been peaceful. He's been using his rising profile to bring attention to causes he believes in. In November, Mensa joined protests marching through downtown Chicago after the release of the dashcam footage of McDonald's death. When Vice's TV channel, Viceland, profiled Mensa in an episode of the music-centric program Noisey, the show closed with footage of him at one of those marches.
The lyrics to "16 Shots" also refer to that protest experience. Mensa premiered the song at a Justice for Flint benefit concert in February, and in April he performed it during the opening night of "Our Duty to Fight," an art exhibit honoring Black Lives Matter activists at UIC's Gallery 400. Since the release of There's Alot Going On, he's kept up the fight for what he believes in through collaborations and one-off tracks. On Towkio's "G W M," Mensa rips into Spike Lee's touristic depiction of Chicago violence in Chi-Raq: "Nigga fuck Spike Lee / City notorious for niggas getting shot / It's not a movie scene." And in a fiery freestyle for DJ Semtex's program for BBC Radio 1Xtra, he condemns the gentrification that's driven the poor out of Cabrini-­Green ("And U-Hauls came and shipped niggas out the projects / And tore the buildings down and then they built a brand-new Target") and the fear of blackness that caused Alton Sterling's death ("Now compare that to niggas with guns / You ain't even gotta reach / They put a clip in ya / Bullets at your fibula / Bystander filmed it on a cellular / Welcome to KKK America").
Mensa is willing to push himself out of his comfort zone to tackle themes and issues he cares about, and this emerging fearlessness makes him even more compelling. At the end of June, he released "Free Love," a song about LGBT rights that features Malik Yusef, New York queer rapper Le1f, genre-blurring pop star Halsey, and based rapper Lil B. Mensa performed it at a Pride party that was part of Smart Bar's Sunday-night Queen series, and he made a T-shirt whose sales benefited victims of the Pulse nightclub massacre in Orlando. In a note about the song that he posted on Twitter, Mensa wrote that though he'd long been a supporter of LGBT rights, "I didn't feel personally attached or really feel like it was my battle to fight." His indifference dissolved, he explained, after a family member came out to him: "I realize now that as a creature of love, the battles of all people fighting to love are also mine."
I ask Mensa what people who want to be allies for causes that aren't theirs can do to help. The more I see people arguing past each other online, with the bitter divisions between them growing deeper, the more I think everyone should take the rapper's advice to heart: "Just listen."
Read Original Article On Chicago Reader By Leor Galil
Photo Credit: Vic Mensa (second from right) stands his ground with protesters who took to the streets of Chicago on November 24, 2015, after the release of the Laquan McDonald dashcam video.
Scott Olson/Getty Images